Yesterday we summarized "Time After Time" In 10 Screencaps Or Less™. Today, we extract a product management lesson from that 1970's time travel mash-up.
In the opening scenes of Time After Time, H.G. Wells introduces his dinner guests to the new Time Machine that he's invented. Unfortunately, one of his guests is secretly Jack The Ripper who promptly steals the Time Machine to continue his serial killings in modern-day San Francisco.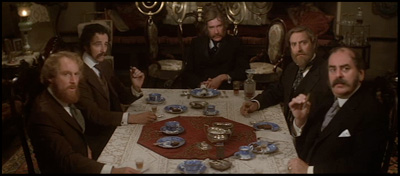 To the best of my knowledge, no product that I've ever worked on has been linked to time traveling serial killings. However, I have been involved in at least one strategic partnership that was disastrous.
Now, I wasn't involved with vetting or approving the partner; it was thrust upon me and I did what I could to mitigate the oncoming storm. But in the end, there was no choice but to ride it out, which put a tremendous burden on everyone involved internally as well as on our customers.
What went wrong? Like H.G. Wells, we trusted someone we shouldn't have–and had to live with the consequences.
Continue Reading Jack The Ripper, H.G. Wells, And Choosing The Right Strategic Partner