Gamesville: We Are The Bob Barkers Of The Internet
I'm the senior product manager for Gamesville.com–the web's first, best, and only place to compete in real-time, massively multiplayer game shows for free cash prizes–and today was a very special day for us.
A local man won big in our Magic 21 game show a few days ago, so we fired up the Gamesville Prize Patrol jeep today and drove down to Andover, MA, to present the real check (and a comically over-sized check) to the lucky winner, live and in person.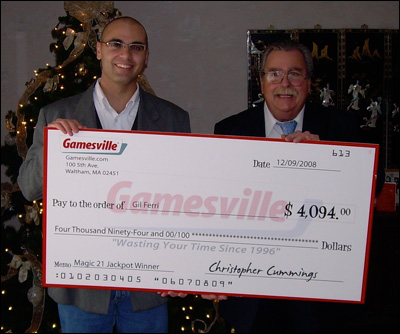 The winner, Gil, was very gracious and excited. And by his own admission, the win could not have come at a better time.
Until a few months ago, Gil had been a salesman specializing in selling pagers to businesses. The company laid off many people, including Gil, so he's currently searching for a new sales position.
If anyone has any job leads for Gil, please contact me at chris at christophercummings.com and I will pass them along.
Thanks, everyone. And congratulations, Gil!
For more pictures and an interview with Gil, hop over to the Gamesville Blog.
UPDATE: Check out the The Daily News Tribune's coverage of Gil's win, along with a terrific picture of Gil playing Magic 21: Holiday Jackpot: Man wins $4K in Lycos card game
If you enjoyed this post, please leave a comment or subscribe to the feed to receive future updates automatically. You can also follow me on Twitter.