Josie And The Pussycats: Stop, Look, and Listen (The Capitol Recordings)
Josie and the Pussycats was a cartoon series about a multi-cultural, all-girl pop trio that solved mysteries between gigs.
In 1970, Capitol Records released the group's only album. In 2005, Rhino released all the tracks recorded for the Capitol album plus alternate versions and five previously unreleased tracks...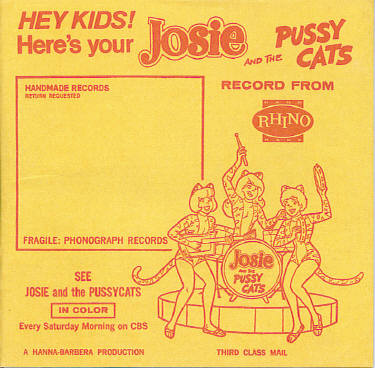 The songs were performed by Cathy Dougher (Josie), Cherie Moor (Melody), and Patrice Holloway, sister of Motown R&B star Brenda Holloway (Valerie).
The CD is no longer in print and can cost a minor fortune on eBay. It took me forever to find a reasonably-priced copy.
For everyone else out there who wants to hear these recordings and doesn't want to shell out $50.00+ for it, I put together a small selection of my favorite songs which you can listen to below...
This text will be replaced by the flash music player.

For more information on Josie & the Pussycats, check out: